I have to start this post saying that you people are AWESOME!!!! I started my day with 1 follower and she helped me turn it in to 14. I love you guys!!!! I am thankful for the beginning of my blog family. (I hope it is a big one)
Now onto the matter at hand....Thanksgiving challenge: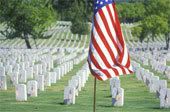 I am thankful to have men and women that have risked and given their lives for us from the birth of our country till today. This is such a great country we live in (despite all the political things going on). I think that is amazing that over the past 232 years (I think that is the right age) there has continually been people willing to lay down their lives to serve. These people understand what America is really about. Even though I love this country I can't say I have the same dedication. My dad and my papaw served in the military. So did several of my uncles and cousins. They get what freedom is about. So today I am thankful for each and everyone of our American Soldiers...past, present, and future.
HAPPY VETERAN'S DAY!!!!

GOD BLESS AMERICA!!!!

*Found the picture of photobucket (that is usually where I find all my pictures)
**I tried to find a picture of my dad in his Marine uniform. He was so handsome. I couldn't but I'll keep looking.